20th May 2020
Dear friend, thank you for your ongoing support and being part of our Testigo tribe, we wish you happy holidays and an amazing new decade!
Here's the latest from the Testigo Team
Tracey has just returned from the US, where she travelled across the country developing a US donor base and spreading the word about Testigo. The trip included multiple school visits and presentations, meetings with funders and others in the social profit sector, attending a week long conference with 460 attendees representing 170 charities and sharing her expertise about the Maasai and Testigo's permaculture projects.
We are continuing to provide support and training to our community and school projects. We're currently fundraising to extend our successful permaculture school garden by planting a food forest at Lowassa Secondary School in Mto wa Mbu.
Testigo celebrated our 10 year anniversary with our our founder Tracey Sawyer leading a Safari tour, which was a big success! We visited the wonderful Northern Circuit National Parks including Tarangire, Ngorongoro Crater and the Serengeti. The tour highlight was a unique and truly moving visit to Testigo's project villages and schools in Makuyuni. Our safari finished on the gorgeous island of Zanzibar. If this sounds like something you would love to do, we are inviting you to join Tracey in 2020 on a safari combining people, animals, and Testigo's projects. Our tour promises a unique perspective on the Maasai tribe not normally available to tourists. Email info@testigoafrica.org with your interest.
There is so much on the horizon for Testigo. We are so thankful to have your support throughout our journey, and we look forward to a new decade and journey with our Testigo tribe of supporters.
Testigo Africa Films 2019
Our new Testigo films capture our most recent projects in Lomoyoni and Zaburi villages and Lowassa Secondary School.
Click here to watch the extended version (6 minutes)
Click here to watch the short version (2 minutes).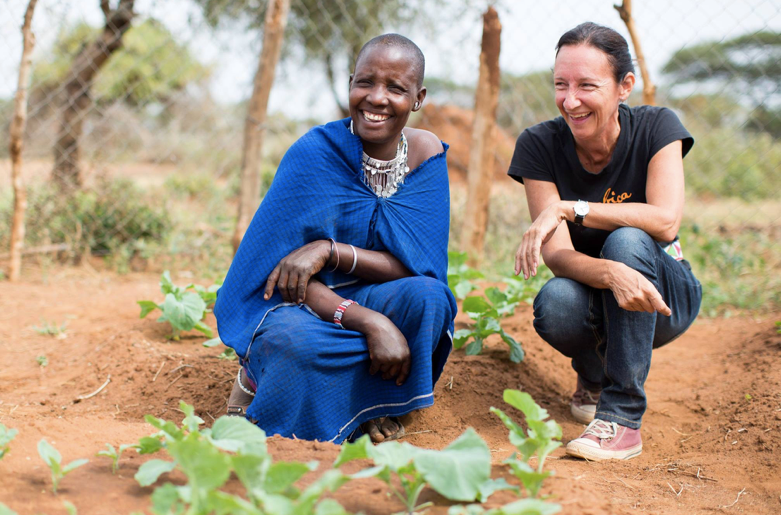 A note from Tracey, Testigo's Founder, CEO and Chief Creator
2019 is the ten-year anniversary of Testigo!
What an incredible 10 years it has been! I've been doing a lot of reflection on the journey so far as we reached this exciting ten year milestone. I feel enormous gratitude for the privilege of being invited into the Maasai community. I've also been feeling thankful for my friendship with Namnyak, which started it all.
Namnyak and I immediately connected after meeting at my first ever Maasai ceremony. Namnyak is Maasai and I am Australian, and we had no way of communicating through words, but we found that we shared similar values and the same sense of humour, and so it just worked.
I remember attending a 'coming of age' ceremony about 5kms from her mud hut home. On our way back we stopped at a small roadside stall selling tea. We sat on the makeshift bench, a plank of wood balanced on hefty upright logs. Namnyak stood up first and I ended up sprawled on the ground as if we'd been on a seesaw. Both of us were laughing hysterically. Laughter has been a constant theme in my friendship with Namnyak.
There has been so much joy with Testigo, the Maasai, and Namnyak over the last 10 years, and while looking back is important, looking forward is too. The next few months are going to be super exciting for Testigo as I return to Tanzania with new energy and ideas after visiting the US for the first time in 17 years.
For now my focus is to re-imagine Testigo for the new decade, and to invite you to visit our team in Tanzania and experience for yourself the wonders of Tanzania, the Maasai tribe and meet some of Testigo's tribe of participants in our community and school projects.
Karibu! (Welcome!)
Tracey
2020 Calendar
$20 + $5 postage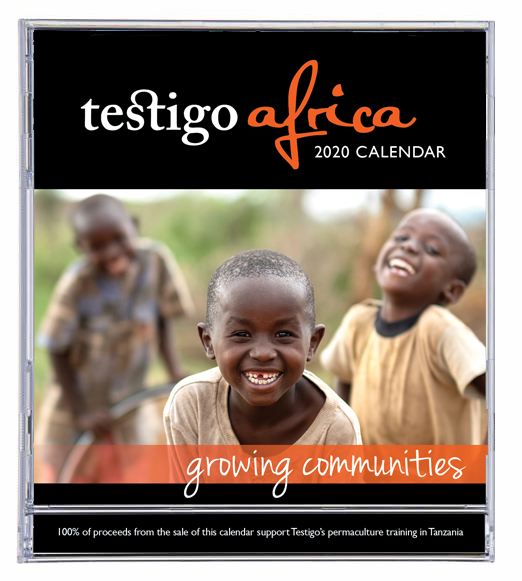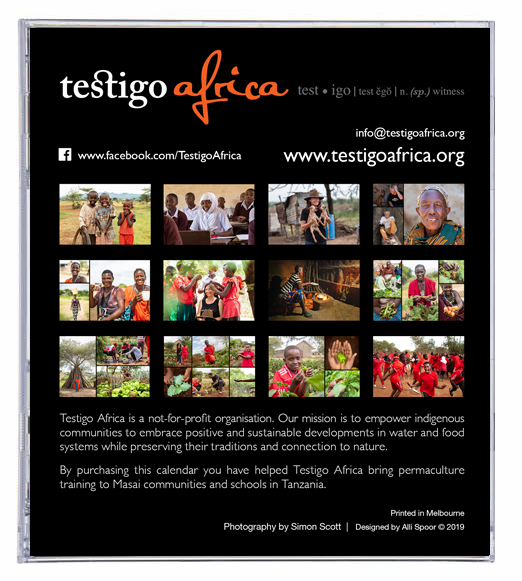 Last Minute Christmas and New Year Gift Idea!
Not only will you have a great gift, but 100% of the proceeds support our permaculture projects training Maasai women and school students in Tanzania.

BUY CALENDAR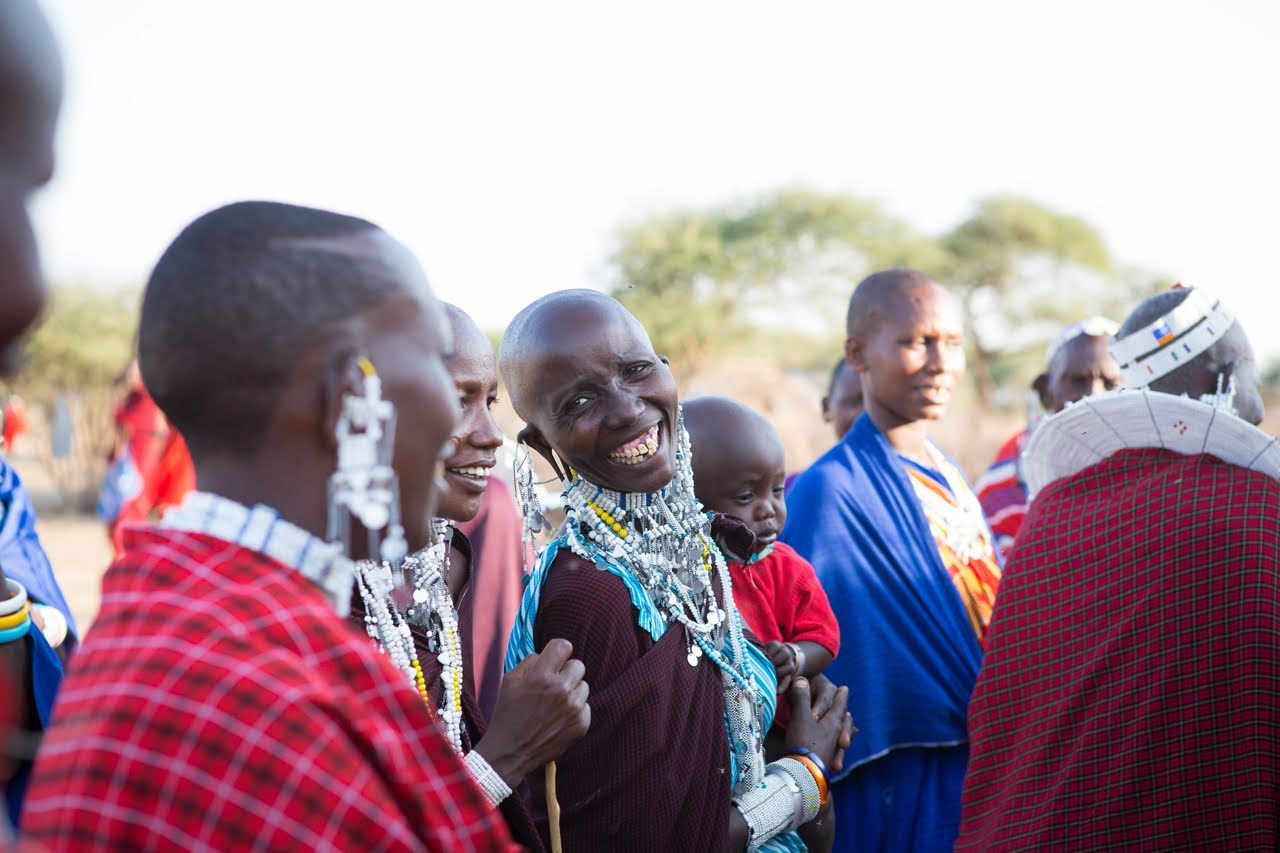 We are new on Instagram!
Follow @testigo_africa to stay in the loop and to have your feed brightened by our wholesome content. Many of our photos have been taken by the talented photographer Simon Scott. You can check out his work @simonscottphoto.
Thank you!
Thanks very much for reading! Our work is only possible thanks to the generosity of our supporters. Please help us to continue our life-changing work by making a donation today. Thank you!
---