24th June 2020
Dear Friends,
We know there is lots happening around the world, and for Testigo Africa, Black Lives have always mattered. We've been addressing this for over ten years now and we continue to support Tanzanian school children and Masai communities.
We are expanding to Kenya with our next project in Amboseli. The local community have reached out to Testigo and we have a team set up and ready to go into the village and train the Masai. We need your donations to help the project go ahead.
With one week until the end of the financial year, we encourage donations and remind you that all Australian donations are tax deductible! testigoafrica.org/donate
DONATE an receive a Testigo Calendar with every donation over $50!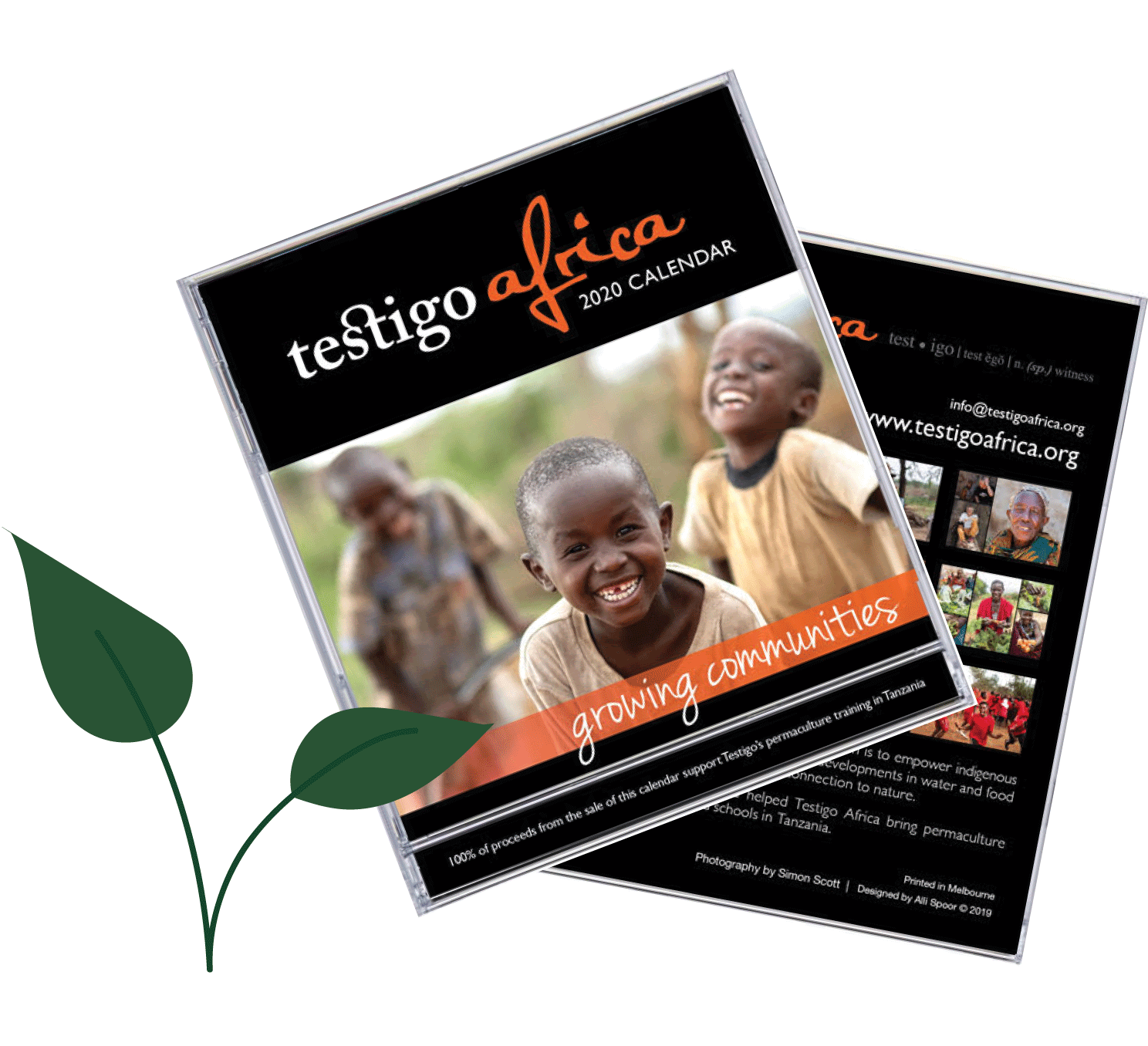 Apple Podcasts New and Noteworthy!
With over 400 downloads, Tracey's interview with 'No Small Jobs' host Paul Nguyen has made it into Apple's Recommendations. We encourage you to give it a listen if you haven't already!
This podcast explores careers, jobs, and how to find the right one for you. Tracey retells her journey of working in accountancy, publishing and corporate law before realising where she would find true joy: with Testigo. She shows that no matter how deep into your career you are, it's never too late to follow your passion.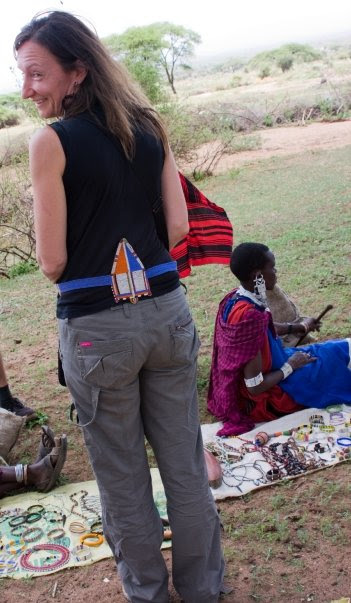 Testigo Founder pictured here modelling a traditional Masai belt (this one is meant for men oops)
Tracey has an amazing story to tell and important lessons to share. She has presented a series of successful talks in 2019 at various institutions including Harvard and Boston Universities. If you would like to hear more from Tracey and have her speak at your event, please email info@testigoafrica.org for speaking fee information.
Australia and Tanzania compared:
Our Testigo Founder Tracey Sawyer's Perspective on Covid-19
While in Australia schools and universities may have been physically closed, students were being supported with online learning, in Tanzania the schools are closed but most students do not have computers or tablets. Many students don't have access to a smart phone, and many parents are illiterate and cannot assist their children in any sort of home schooling. Most students live in shared crowded rooms, many with no electricity or lighting.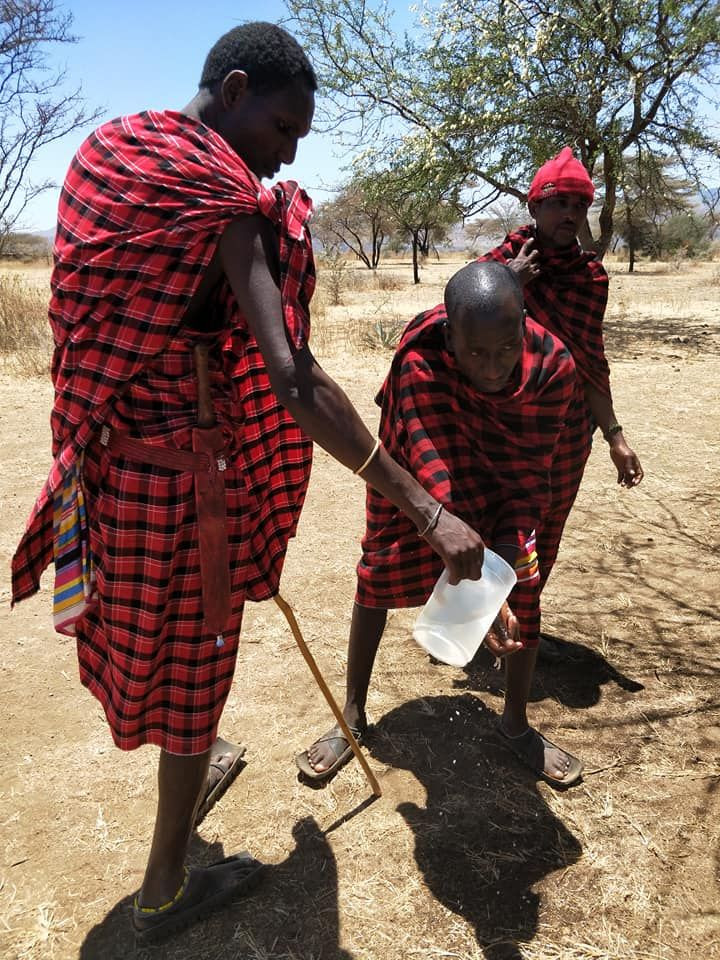 While in Australia our large supermarkets introduced rationing to ensure we had enough toilet paper and food, and sanitised our trolleys, in Tanzania toilet paper has always been a luxury and food is bought in crowded local markets.
While in Australia we have fridges, cupboards, pantries and disposable income so we can stockpile food and other essential products, in Tanzania only the rich have electricity, fridges, space and savings. Mud huts cannot store perishables and food is bought fresh and prepared daily.
While in Australia we worry about getting fat during our Corona lockdown, in Tanzania many people survive on one meal a day with malnourishment being one of the major health issues.
While in Australia the government has provided a safety net for businesses and employees who have been stood down or lost their jobs, in Tanzania there is none. Most people have a life of subsistence, living hand to mouth, making only enough money from their micro businesses to provide food for the following day. The Tanzanian government said that it could not impose a lockdown as more people would die of starvation than would ever die of COVID-19.
While in Australia billions of dollars are being applied to COVID-19 related assistance, in Tanzania the US government gave $1million to assist with the virus.
While in Australia our federal and state governments are updating us daily, in Tanzania there have been no COVID-19 updates since the start of May.
While in Australia those with the stamina and appetite can pretty much watch coronavirus updates 24/7, in Tanzania there was a rush to buy radios to stay updated because many people don't have TVs, can't afford newspapers, are in villages well away from available newspaper vendors or have basic mobile phones with no radio access.
While Australia is focussed on COVID-19, in Tanzania they are also continuing to grapple with AIDS, malaria, TB, typhoid, cholera, meningitis...
While in Australia there have been over one million corona tests carried out, in Tanzania testing is limited and results have to be sent to Dar es Salaam for analysis.
While in Australia our incoming international travellers are being forced to quarantine in five star hotels at the government's expense, in Tanzania arriving travellers were forced to pay for their own quarantine in hotels of the government's choosing.
While in Australia tourism is one of many sectors and contributes around 3% of GDP, with 73% of that domestic, in Tanzania tourism has been its fastest growing sector, accounting for 14% of GDP. Tanzania's tourism comprises mainly international travellers. In Arusha, the safari hub of Tanzania, international tourism accounts for 70% of the city's income and employs 40% of its residents.
While in Australia we have the luxury of being able to self isolate, in Tanzania most people live in large family groups in shared rooms, sharing bathroom facilities with their neighbours.
While in Australia we can still get around in our cars, in Tanzania only a tiny minority have cars, the rest use crowded minibuses.
While in Australia we can sanitise or wash our hands with soap and water and maintain high hygiene standards and protective measures, in Tanzania not only does the rural population have to collect and carry often dirty water over a vast distance, but only 57% of nearly 60 million Tanzanians have access to safe water.
COVID-19 may not discriminate between the rich and poor, but its impact and consequences are devastatingly disparate.
We are on Instagram!
Follow @testigo_africa to stay in the loop and to have your feed brightened by our wholesome content. Many of our photos have been taken by the talented photographer Simon Scott. You can check out his work @simonscottphoto.
---